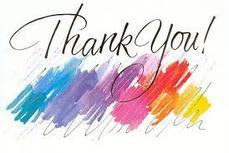 In the spirit of the holiday season, I've decided to share the things I am most thankful for as a writer.

There are so many people who have encouraged me along the way, or pushed me or challenged me. I had teachers all throughout my time in school who nurtured my love of writing. My best friend, Cheryl, and I grew up reading books together and spent hours writing our own stories. My family and friends have always supported and encouraged me, and they continue to do so.

The first people I need to thank are my husband and my kids. I'm sure living with a writer isn't always easy. They know when we're in the middle of supper at a restaurant, I might suddenly grab a napkin and start scribbling notes. They know that when inspiration strikes, I have to write soon or I might go a little crazy. They've been more than patient and understanding when I need to close the door and just write.

My husband, Scott, has been one of my biggest supporters and cheerleaders – although at 6'3" he looks a lot more like a football player than a cheerleader. It's nice to know that he truly believes in me as a writer and encourages me to do whatever I need to do to continue to improve my craft.

I'm blessed to have a supportive extended family too. As hard as the writing world is to break into, no one in my family has ever said the words "you can't" to me. That means a great deal to me.

My mom has been one of the most helpful people in my journey. She is my silent writing partner and my sounding board. She reads every book while I write it, offering just the right balance of encouragement and feedback. She knows my characters almost as well as I do and can help me if I hit a snag or if I'm having trouble making a decision about a character. Several of my novels are much stronger because of some of her questions and feedback.

One of the most helpful and enriching experiences I've had is connecting with other writers. I'd like to say thank you to every writer I've met at conferences and writing groups. Your willingness to share what you know makes the road a little less bumpy and lonely. I especially want to thank everyone in my critique group – your encouragement, your feedback and your suggestions have made me a much better writer. I'm blessed to be part of a fantastic group of writers who truly want to help each other.

I'd also like to thank the editors and agents I've had contact with at conferences. I know how busy you are and I appreciate the time you take to lead critique groups, to offer feedback and answer questions.

It might sound strange to say I'm thankful for the rejections I've received. The requests I've gotten for partial manuscripts are validating and encouraging, but the rejections I've received help me to build a thicker skin. They also reinforce my love of writing. Regardless of how many rejections I get, it wouldn't make me quit writing. I write because I love it and I can't imagine doing anything else.

Finally, thank you to everyone who loves the written word – whether you're a reader or a writer. Thank you to all of the authors whose works have inspired me, who have made stories and characters so real, I cry and laugh along with them.

My writing group has recently been talking about expanding and offering a variety of groups that would accommodate a wide range of writers. One of the core themes we'd like to see woven throughout the groups is the theme of community – of writers helping other writers become the best authors they can be. I truly believe there is a small community behind almost every great novel and novelist. It's a community made up of: family and friends who offer encouragement, other writers who offer support and critiques, agents and editors who often say things authors don't want to hear, but need to hear.

There is a famous quote from Isaac Newton: "If I have seen further than others, it is by standing upon the shoulders of giants." Although I don't think I see further than others, I'm blessed to have a team of giants who surround me, encourage me, and make me a better writer.