In
my first blog post
, I wrote about the gamut of emotions I go through as a writer. Many of the joys of writing are fairly obvious, but even some of the things I thought would be tedious turned out to be very enriching experiences.
Normally when I hear the word "research" I don't get excited. It evokes memories of the long, grueling hours I spent in the library during my college years writing academic papers. The words "research" and "joy" have about as much in common as "root canal" and "Santa Claus". Don't get me wrong, some of the research I've done for my novels has been fairly tedious, but some of my research has led me to people, places, and issues, that have enriched my life.
The experiences I had and the people I met while writing my second novel (The Broken Road) will stay with me for the rest of my life. Two of my characters in The Broken Road have spinal cord injuries. Before writing this novel I knew next to nothing about spinal cord injuries and paralysis. Because my books are so character driven and relationship centered, I needed to learn about more than just the physical facts about spinal cord injuries – I needed to know everything about the emotional effects as well as effects on marriages and relationships.
My research led me down a fascinating path. I found some wonderful online forums and some very honest and brave personal stories that people shared on YouTube. I also came across a short documentary that tackled the topic of paralysis and intimacy. One of the people who was interviewed said she felt let down because almost no one in television, movies, or books realistically portrays what it's like to live with a spinal cord injury. That one statement motivated me and challenged me to bridge that gap – to tackle the grittier issues and to write as honestly and realistically as I could.
One person whose story I followed on YouTube was a fantastic freestyle skier who became paralyzed during a training run. I watched his videos in chronological order and it was interesting to watch his transformation over time. If you're interested in his story, here's a good place to start:
Josh Dueck.
This is one of the earlier videos he posted. Some of it's hard to watch and hard to hear, but he's brutally honest about his injury. If you watch his later videos or clips of him on talk shows, he's a different person. He's gone on to do some great things including some inspirational speaking.
I watched and read everything I could find about spinal cord injuries. But I knew I needed to do more than just read. I needed to find people I could talk to and interview. I contacted a local rehab facility to see if I could take a tour and talk to some of the staff and possibly some patients. The person in charge was helpful, but she was concerned about confidentiality, so she didn't know if I could take a tour. I told her I understood and thanked her for her time.
This was a moment in my life when everything happened at just the right time. I was doing my research at the same time I was preparing to go to the 2012 Rocky Mountain Fiction Writers Conference in Denver. As it turns out,
Craig Hospital
in Denver is one of the top rehab facilities in the world for people who have spinal cord injuries. They get quite a bit of media coverage – they were recently on the national news when former Olympic swimmer, Amy Van Dyken went there after she sustained a spinal cord injury.
I sent an e-mail to the people at Craig Hospital and told them about myself and my novel and asked if it would be possible to visit their facility while I was in town for the conference. The PR director told me he'd be happy to meet with me and show me around.
I can't say enough good things about Craig Hospital and the people who work there. The PR director set aside an entire morning to answer my questions and to show me around. I got to talk to staff and patients and see everything from the therapy rooms to the patient rooms, to the modifications they make to vehicles, beds, and chairs. He showed me how they help people continue to pursue their hobbies and passions such as skiing and kayaking and other things that might seem impossible, but really aren't. I even got to see a modified saddle for people who want to ride horses. Seeing the saddle was perfect since one of my characters was a horse trainer who thought she'd never get to ride a horse again.
There were so many inspiring success stories that came out of Craig hospital, including some people who went on to compete in the Paralympics.
The research I did for The Broken Road definitely enriched my life. I have stayed connected to Craig Hospital through Facebook and I enjoy reading about what they're doing and the advancements they're making.
Writing The Broken Road was an amazing experience in so many different ways. It did not end up being the novel I originally set out to write – it became something much richer and more complex. The storyline and the characters touched me very deeply as I was writing it. I just finished a very thorough (and hopefully last) edit of that manuscript and it still affects me emotionally when I read it.
Some of my research for other novels has led me to some pretty exciting places, but The Broken Road was the first novel that showed me just how rewarding and meaningful research can be.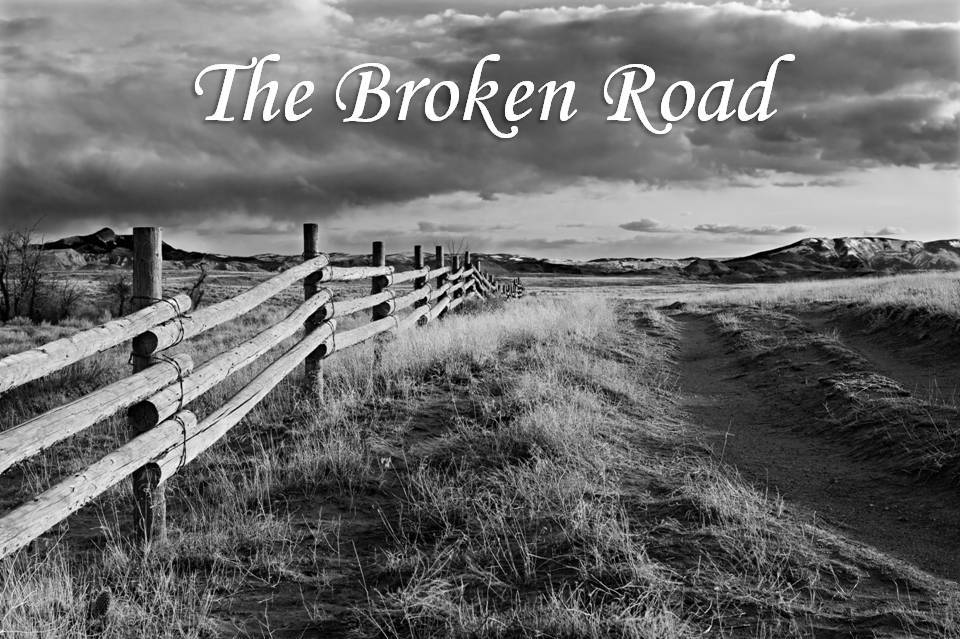 This isn't the cover of the book, it's just a picture that reminds me of a scene from the book that takes place in Wyoming