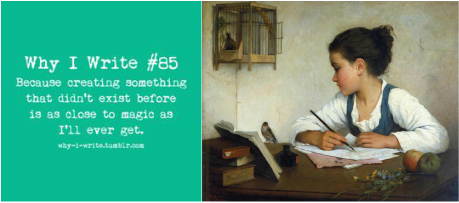 I was reading another author's blog last week and she invited everyone to answer the question:
why do you write
? It was interesting to scroll through the comments section to read the various responses.
That author's question of
why do you write
came at an interesting time for me. I recently went through a big bin full of notebooks and journals dating all the way back to my time in junior high school. The one thing that was apparent when I looked through my notebooks and papers was that I wrote. All the time. When I should have been doing math, I was writing the beginning of a short story. Little caricatures and comic strips of horses covered the pages where my history notes should have been.
In addition to all of the stories I'd started in my school notebooks and journals, I found a big three ring binder overflowing with papers from sections that were labeled: Finished Stories, Poetry, Novels, Unfinished Stories. I probably only found about half of what I'd actually written while I was growing up. My mom has a few of my very early writings, but the rest are gone.
Since reading that author's blog post and finding my old writings, I wondered what my answer would have been as a child or teenager if someone had asked me
why do you write
? And I wondered if my answer then would be different from my answer now (as a much, much older person).
I think my answer as a child would have simply been:
because I love to write
. I'm sure that being a voracious reader helped to fuel my love of words and carried over into my passion for writing. I honestly don't remember exactly what motivated me to write so much throughout my childhood and adolescence, but I do remember the constant stream of story ideas that came to me. In some ways, writing was probably an escape for me. I was painfully shy and I was a daydreamer who looked out the window of my elementary school and dreamed about horses and about living in the wilderness. I'm sure many of my story ideas were born from those daydreams.
If you read
Journey to my First Novel
in the
About Me
page, you'll see that I took a hiatus from writing during a portion of my adult life. There were a lot of reasons for not writing: undergrad, grad school, marriage, kids, work, illness. But even during those years, a novel was sitting inside of me and every once in a while it let me know it was still there. Then three years ago, I finally wrote the novel I wasn't sure I'd ever write. I loved writing it so much, I hoped I'd have enough ideas to write more novels. I've found out that's not going to be a problem.
So as an adult, if someone would ask me why I write, my short answer is:
because I love it
. But it's so much more than that – there are so many reasons behind the words "because I love it." I love the way a simple seed of an idea begins to unfold in my mind. I love the way my characters develop as I'm writing their stories. They often take me in a different direction than I'd originally intended them to take. I could write an entire blog post about my characters and how they develop.
Not long ago during a meeting with my writing group, we talked about the things we loved about writing. One of my answers was:
writing is the ultimate escape
. Author
Victoria Schwab
recently tweeted this definition of a writer:
Writer. Noun. One who spends more time in fiction than reality.
It's true. Just like reading a book is an escape, so is writing one. I guess that's another reason I write – I'd like to give that to other people. I want to give readers a cast of characters they can go on a journey with – characters they can root for, characters they can laugh and cry with.
My final answer as to why I write is:
because I have to
. I don't think I could stop. Sometimes I get discouraged, but I don't ever want to stop writing. I have too many characters and storylines going through my head. They'd probably drive me crazy if I tried to push them aside.
So although my simple answer to why I write is
because I love it
, there's much more to it than that. I think every writer will say something a little different when they are asked why they write, but most of us write because we love it and we just can't stop.
Feel free to share why you write in the comments.