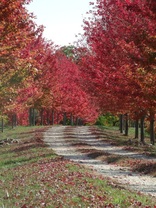 Since the time I was a kid, fall has been my favorite season. Growing up, I loved to take my horse out on cool fall days and ride through the wooded trails around our little farm. I remember a certain smell to the falls of my childhood - it was as if the vibrant leaves emitted a sweet, crisp scent that filled the woods. My horse seemed to like fall too – he'd hold his head high and his nostrils would flare as his hooves crunched over the leaf-blanketed trails.
My mind would wander during those rides – sometimes to some magical fantasy world. Other times I thought about my dreams, about my hopes for the future.
It sounds a little cliché to say that fall is a time of reflection, but I seem to be even more reflective than usual during the fall. Maybe it's because both of my kids have birthdays in the fall. Maybe it's because my own birthday is coming up. Or maybe I just noticing the natural cycle of the earth…of life.
Fall has now taken on new meaning for me as a writer. I began my first novel in the fall. I wrote about the inspiration for that novel in the "About Me" page under
Journey to my First Novel
. It almost seemed like fate because the inspiration for that novel hit me while I was riding a horse through some beautiful fall fields at my mom's place. Not long after that, I wrote my first words and in those words, I found my passion in life.
It's interesting to me that my critique group formed in the fall too. Almost exactly one year ago, seven authors, who really didn't know each other, sat around a table together and created a critique group that is one of the best groups I've ever been a part of. A few of the faces have changed over the past year, but each person I've met in the group has made my life richer and has made me a better writer.
Some people think of spring as the beginning of things, but fall feels like a beginning to me. It's the beginning of school, it's the time when people begin to think about the holidays. But it's also a portico to the past. The smells of fall make me feel nostalgic – it makes me long to hop onto the bareback of my horse and gallop through the woods. It makes me miss leaf piles and bonfires and playing football in the yard with my brothers. Maybe that's why I love fall – it connects the memories of the past to the possibilities that still exist today and into the future.
So I guess fall feels like both an ending and a beginning – maybe that's why it evokes so many emotions and thoughts. The world is never more alive and radiant than in the fall, but the incredible, inspiring beauty is so brief, so fleeting, it's no wonder it causes me to reflect and think about questions that really have no answers.
If you can't tell from this blog post, I am an idealist and a hopeless romantic - and what's more romantic than fall? It's no wonder I love this time of year.