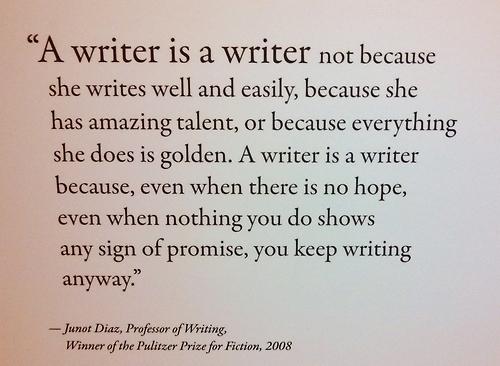 Writing a novel is hard work. That probably sounds like an obvious statement, but many people have the idea that writing a novel will be a grand adventure…kind of like marriage. The idea of it is beautiful and romantic, but once you dive in, you realize it's a lot of hard work. As much as I love writing, there are times when I get stuck or hit an unexpected roadblock. Sometimes the plot sags or sometimes I struggle to get a character in and out of a scene. There are times I simply can't figure out what's going to happen next. And there are many many times I doubt myself as a writer.
There are also days when writing feels like magic. Those are the days when my fingers can't type fast enough and the words just come to me. Those are the days when my characters write their own dialogue and I'm just the messenger who writes it all down for them. I love those moments.
During those moments when I struggle or when I'm filled with self-doubt, there are things that keep me going and keep me motivated to see my novel through to the end. Here are a few of my motivators:
Music: I make a playlist for every novel I write. I search through songs I already have that fit with the theme of my novel or that are reflections of my characters and their struggles. I also search for new songs. I can't write and listen to music at the same time, but I play my playlist whenever I'm driving or doing dishes or taking a walk. While my music plays, my head is in my novel and with my characters. I often have breakthroughs or "aha" moments when I listen to my playlist.

Support: My family has been incredibly supportive of my writing since the day I typed the first word of my first novel. They've gotten used to me pulling out my notepad in the middle of dinner because I have an idea I need to write down before I forget it. I can't imagine how difficult this journey would be if my family didn't believe in me.
My writing group: I don't know where I'd be without the support from everyone in the Des Moines Writers' Workshop. I highly recommend that all writers find a writing community. Just being around other writers is energizing. Your fellow writers are the only people who truly understand the highs and the lows of writing (and everything in between). The people in my writing group challenge me to be the best writer I can be. They cheer me on through every success and they help to pick me up and keep me going when I get discouraged. I am so grateful for everyone I've met in the Des Moines Writers' Workshop.
Writing what I love: This seems obvious, but not everyone does this. Some people try to write to current trends so they can have the next bestseller. That doesn't work for me. I have to write whatever story is banging the loudest in my head and in my heart. If I'm writing a story I love with characters I love, then I can muscle through the hard stuff because I want to see my characters and their journeys through to the end.

Knowing when to take a break: I never take long breaks from my writing – usually not more than a day. Sometimes when I'm stuck, I just need to take a break to clear my mind. When I take a break, the solution often comes to me while listening to music or doing something mindless. I find that I usually get in my own way and the answer isn't as complicated as I thought it was.

Knowing when to push through: Sometimes there are places in my novel I just have to push through and force myself to write. If taking a break doesn't work, then I make myself write through the difficult parts. Sometimes what I write doesn't work, but then I know I need to come at it from a different angle or a different perspective. Sometimes those scenes I force myself to write end up working.

As difficult as it is to write a novel, the joys and the rewards definitely outweigh the rough patches. I can't ever imagine giving up or quitting. It's a gigantic part of who I am.
I'd love to know what motivates other writers.